By Lillian Podlog, FRACTL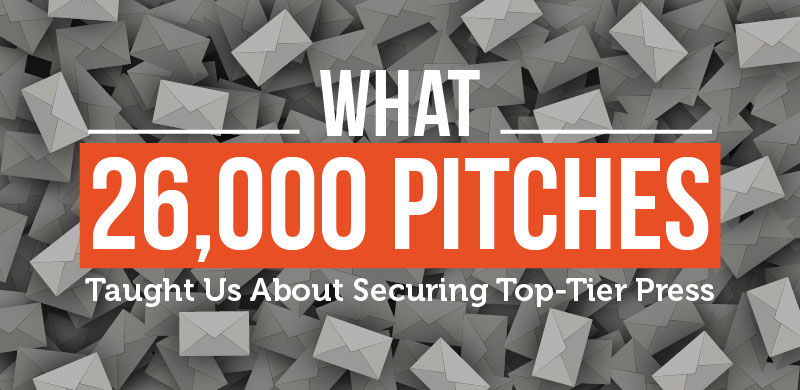 What 26,000 Pitches Taught Us About Securing Top-Tier Press
Spend a few minutes on a journalist's Twitter stream and you are bound to run into at least one post complaining about marketing and PR pitches.
If you want a good laugh (or cry), @smugjourno is a bona fide wall of shame for PR professionals.
My inbox is 60% PR people replying to their own emails, having never-ending conversations with themselves.

— Christopher Mims (@mims) July 27, 2015
Even though some journalists have battled with PR professionals, we recently surveyed 1,300 publishers (full results are coming soon!) and still found two major things:
84% of writers and editors agreed that pitches were at least "slightly valuable" to their jobs.  
40% of writers get pitched more than 20 times per day.  
With their inboxes flooded with pitches, it's no wonder that journalists get annoyed when pitches are off-topic or otherwise miss the mark. In a sea of submissions, how can your email possibly stand out?  
We analyzed 26,988 pitches that we sent between October 2014 and May 2016 to determine what exactly made a pitch successful or unsuccessful. We marked a pitch as successful if the writer or editor responded to the pitch.
Subject Lines
Nearly two-thirds of publishers determine whether or not to open an email based on the subject line. In subject lines, every word counts.
Excluding articles, prepositions, and other helping words, we looked at the 300 most common words in subject lines. All the terms in our subject line analysis appeared in at least 127 subject lines, and they held an average success rate of 12%. The following words yielded success rates much higher than average.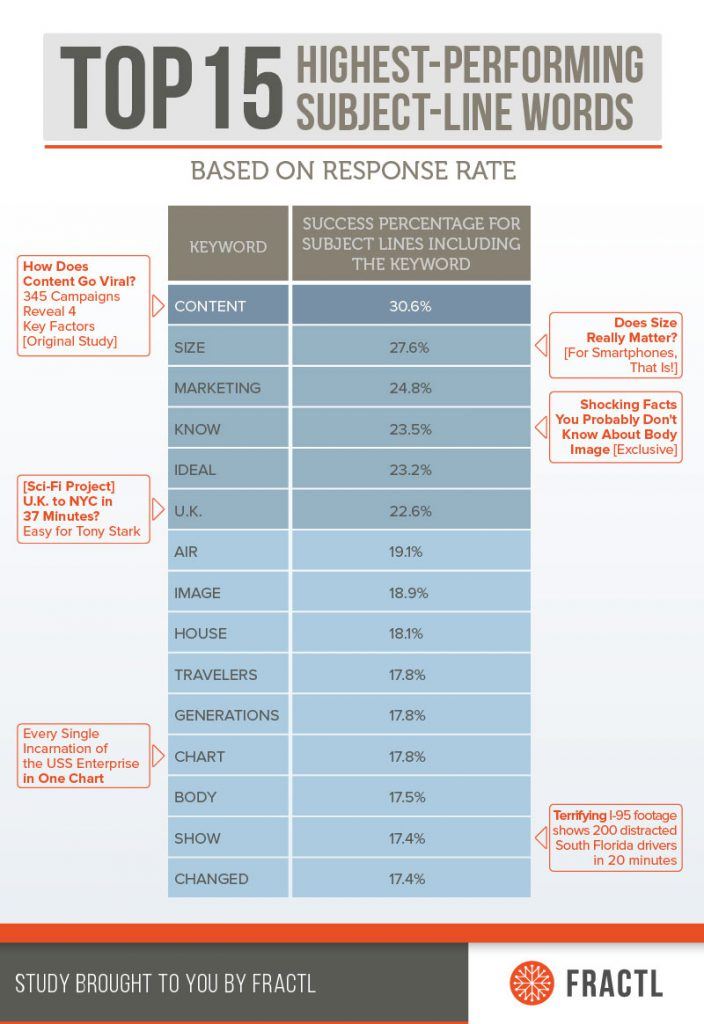 What Makes a Successful Subject Line?
Sharing Something New
In marketing, if no one hears about a tree fall in the forest, then it never happened. Or: It doesn't matter how groundbreaking your research is if no one knows what's exciting about it. Words such as "know," "changed," and "show" were successful since they immediately highlighted what was interesting about the content.
Geographic Ego Bait
Everyone loves a shout-out. It can help to personalize your pitch to the writer's location. Our research showed that U.K. writers appreciated when we related our content to their locale, but this phenomenon is not reserved for those across the pond. Tailoring your pitch to a writer's state or city can help catch their attention.
Humor
When we looked at many of the subject lines that included the word "size," we found that the majority were either outright talking about sex or making some sort of innuendo. Using humor can be risky, but some writers are receptive to quips in your subject line. Our survey of 1,200 people found that 60% of people find humorous emails acceptable, and this trend only increases with the recipient's age. However, you should still do your research before using this tactic. If a writer appears more conservative, a bawdy subject line is probably a no-no.
The Vertical
Terms like "content," "marketing," "house," "travelers," and "body" are more indicative of which verticals are most receptive to pitches. Differences in receptivity to pitches across verticals can help you when you're struggling to promote content. If you are not having success pitching a project, you may want to consider a different vertical.
While writers might respond to humor and geographic ego bait, these tactics are secondary to a targeted pitch. More than 60% of writers agreed that great subject lines are tailored to a writer's beat, but fewer than 20% agreed that humor is essential.  
Subject Lines: What Doesn't Matter?
Including numbers doesn't always add up. While 35% of the 26,900 subject lines contained numbers or percentages, our study showed that including numbers in the subject line didn't have any bearing on whether or not subject lines were successful.  
The term "exclusive" might exclude a writer from your pitch list.  This word had about the same success rate (11.94%) as subject lines without it (12%).  However, we typically only offer exclusives to high-performing sites, which are less likely to respond due to a high volume of pitches.
What About Subject Line Length?
In 2014, we discovered that 75% of publishers prefer subject lines under 10 words, so we were initially excited to see how word count affected subject line success. However, it appears our promotions team is precise with their subject line lengths. The average word count for our subject lines was 10.1 with little variation (a standard deviation of 2.0 words) and no statistical difference between successful and unsuccessful subject lines.
What Doesn't Work in Subject Lines?
We looked at the words that were frequently used in subject lines (at least 500) but had the lowest success rates.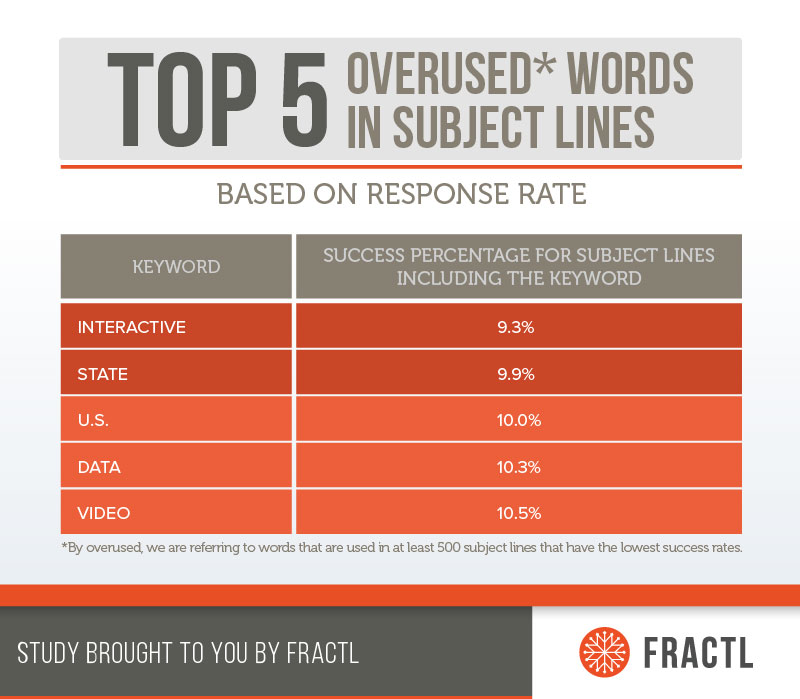 Highlight the Content, Not the Format
Publishers are more likely to be interested if you highlight the content of the project rather than just its format. "Interactive, "data," and "video" all showed low success rates ("map" was not far behind). For writers, a great story is the ultimate goal; exciting charts and graphics are a great bonus, but they are secondary. Subject line space is precious – use it wisely.
Be Specific
Instead of referring broadly to "states," exactness is best. For instance, the subject line, "Map shows X% increase of marijuana use by high school students in each state [exclusive]" doesn't tell the writer whether the data are interesting or whether there are any notable outliers. If there is something remarkable about a particular state (especially if it is the writer's home state), say it.
Email Introduction
After you grab the attention of a publisher with your strong subject line, your introduction must keep them interested in your content.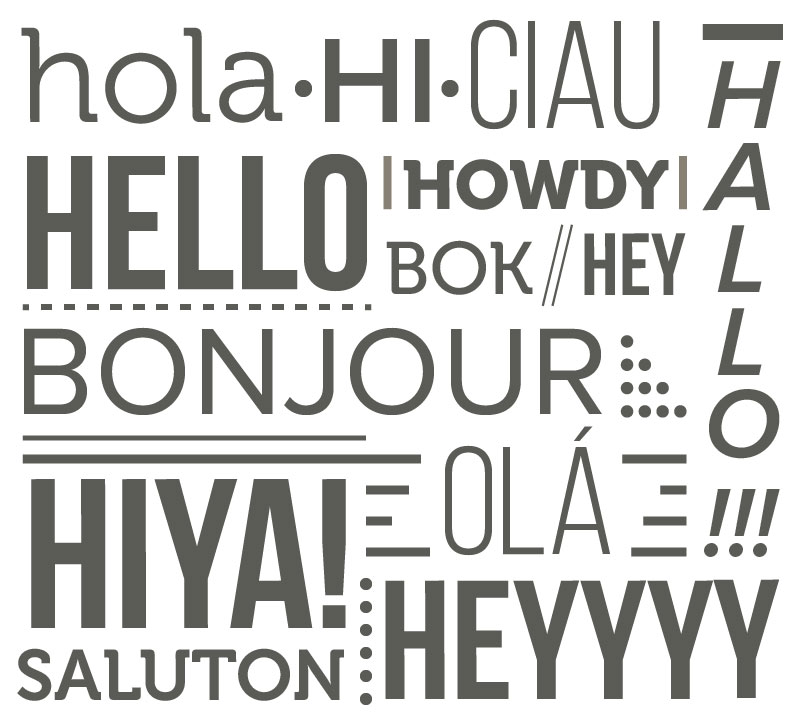 Just Say "Hi"
Here at Fractl our promotions team opens 84.4% of their pitches with "Hi" plus a first name. In comparison, only 15.2% used "Hey," and the more formal "Hello" was only used 69 times.
Though there was not enough variation to make conclusive comparisons, it can be noted that perhaps "Hey" is too informal for some editors and writers, since it does have a lower percentage of success (11.5%) compared with 12.7% for "Hi."
Make a Positive Personal Connection
Next, we analyzed the first 100 characters of each email. Generally, our pitches began with a connection to the writer either based on one of their articles or their personal bio. Our research determined that positivity was key.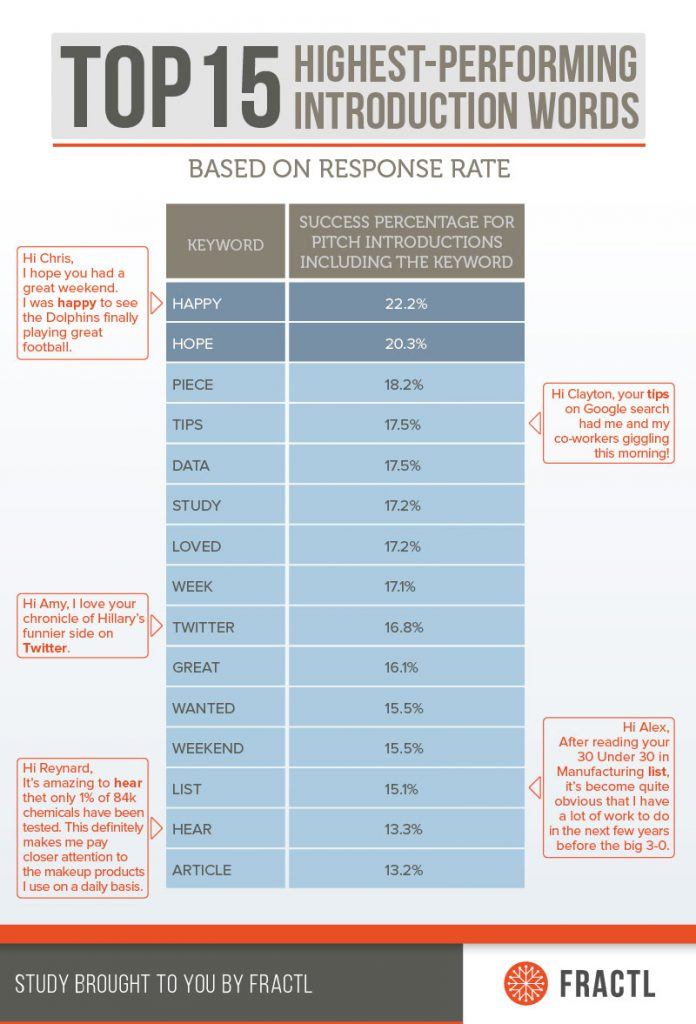 Key takeaways for getting personal:
Be positive.

Connect with a writer's work.

Talk about new updates.

Be polite.
Be Human
We were surprised to see that words like "hope," "weekend," and "week" were on the list. In subject lines, every word counts. But in pitch introductions, writers don't mind politeness ("I hope you had a great weekend," "I hope you're feeling better," etc.). As a PR professional, your goal is to develop mutually beneficial relationships, so it's okay to spend a sentence on platitudes before connecting with a writer's work or personal background.
Please, Don't Make a Generic Comment About Last Night's Game
We also looked at the most overused words in pitch introductions (words used in at least 200 emails with the lowest success rates).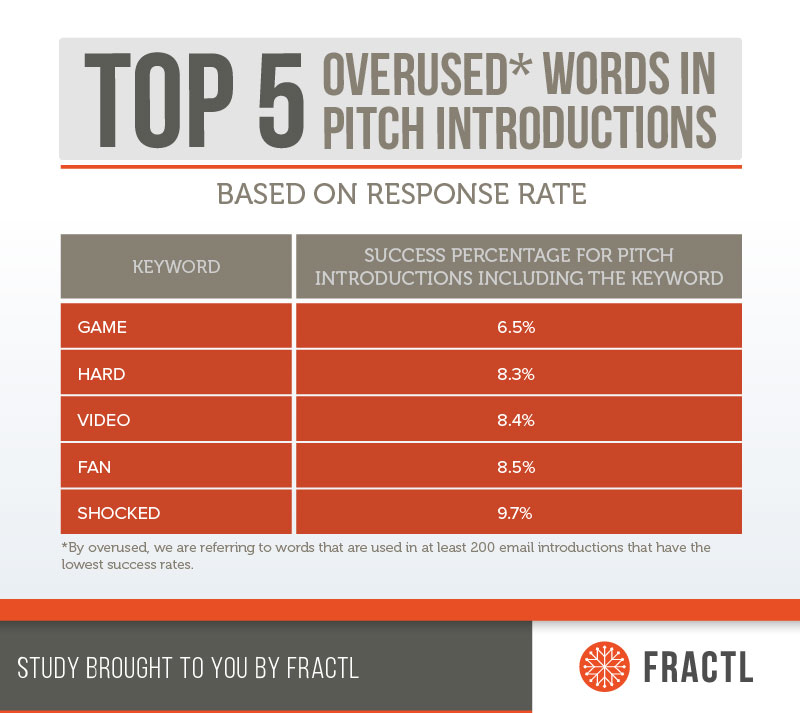 Pitch introductions with the word "game" had the lowest success rate by far. Sports writers are probably not interested in your generic comments about "last night's game." When pitching sports writer, you may have to work a little harder to attract their attention.
We also saw that focusing on negatives such as "hard to believe" or "shocked" is ineffective. It's not enough to say that you were surprised by something a writer wrote about, you need to make a real connection to their work.
The Bottom Line
Subject lines are the moment to strut your stuff in a short amount of space. Don't forget:
Be relevant.

Highlight something new.

Make a (geographic) connection.

Get some laughs.
Pitch introductions are where you either reel a writer in or lose them. Your pitch introduction should also prove to a writer that you are interested in a long-term mutually beneficial relationship. Keep these two things in mind:
Be positive.

Be polite.
Methodology
At Fractl, we use BuzzStream to track all of our pitches and monitor our relationships with publishers. We downloaded all of our emails from BuzzStream and analyzed the keywords used in subject lines and email bodies.
We marked an email as successful if a writer responded to the pitch, regardless of whether or not they covered the content. We chose this metric of success because it best isolates the effectiveness of a pitch. An editor or writer might decide to reject a project for a number of reasons, including a full editorial calendar or the strength of the content itself. However, if a publisher responds to an email, then it indicates that the pitch effectively captured their attention.  
A version of this post originally appeared on the Fractl blog; reprinted with permission.