In the age of Big Data, it is often assumed that the rational and analytical are the primary drivers of business decision making. However, a new study from The Fortune Knowledge Group and gyro, a global ideas shop, has found it is just the opposite—while a majority of senior business executives believe that data is an important tool when making business decisions, it is subjective factors such as company culture, values and reputation that truly play the pivotal role.
Here are the key findings about the role of emotions in decision-making:
Human factors are the deciding factors: Nearly two thirds (65%) of executives say subjective factors that can't be quantified (including company culture and corporate values) increasingly make a difference when evaluating competing proposals. Only 16% disagree.
Executives "trust their gut": A majority (62%) of executives say it is often necessary to rely on gut feelings and soft factors.
Strong reputations and cultures win: When choosing a company to do business with, 70% of respondents cite reputation as the most influential factor. Company culture was also a top driver according to 53% of executives surveyed.
Analytical insight requires emotional insight: A majority (61%) of executives agree that when making decisions, human insights must precede hard analytics.
Positive gains outweigh negative risks: Most executives (68%) say that the ambition, admiration and potential rewards outweigh fear of failure and being blamed for making a bad call.
Long-term partnerships are the goal: The long-term gains are worth the short-term financial risks according to 71% of respondents.
"With more information comes more complexity," said Jed Hartman, group publisher worldwide of Time, Fortune and Money, who oversees the Fortune Knowledge Group, in a news release. "Business decision makers are, of course, using data to their benefit. However when looking to select a business partner, it is clear that emotion plays a vital role. Decision makers do not just want a partner who looks good on paper. They want to create a relationship that can lead to a successful, long-term partnership. As with any relationship, aspects like values, reputation, trust and emotion come to the forefront."
"Business decisions are made emotionally and justified rationally," said Christoph Becker, CEO and CCO of gyro, in the release. "A side effect of the tsunami of digital content is, too often, there is an utter lack of human relevance. That is why if you truly want to connect with business decision makers, you must make them feel. That is why you must focus on the 'why' of your business, the pure idea. The overwhelming desire to connect to this essence has been, and always will be, incredibly powerful."
The study, entitled Only Human: The Emotional Logic of Business Decisions, surveyed 720 senior business executives (88% of which had director-level titles or higher) in May and June. The FORTUNE Knowledge Group produced this 2014 report in collaboration with global advertising agency gyro. Download an executive summary of the report here.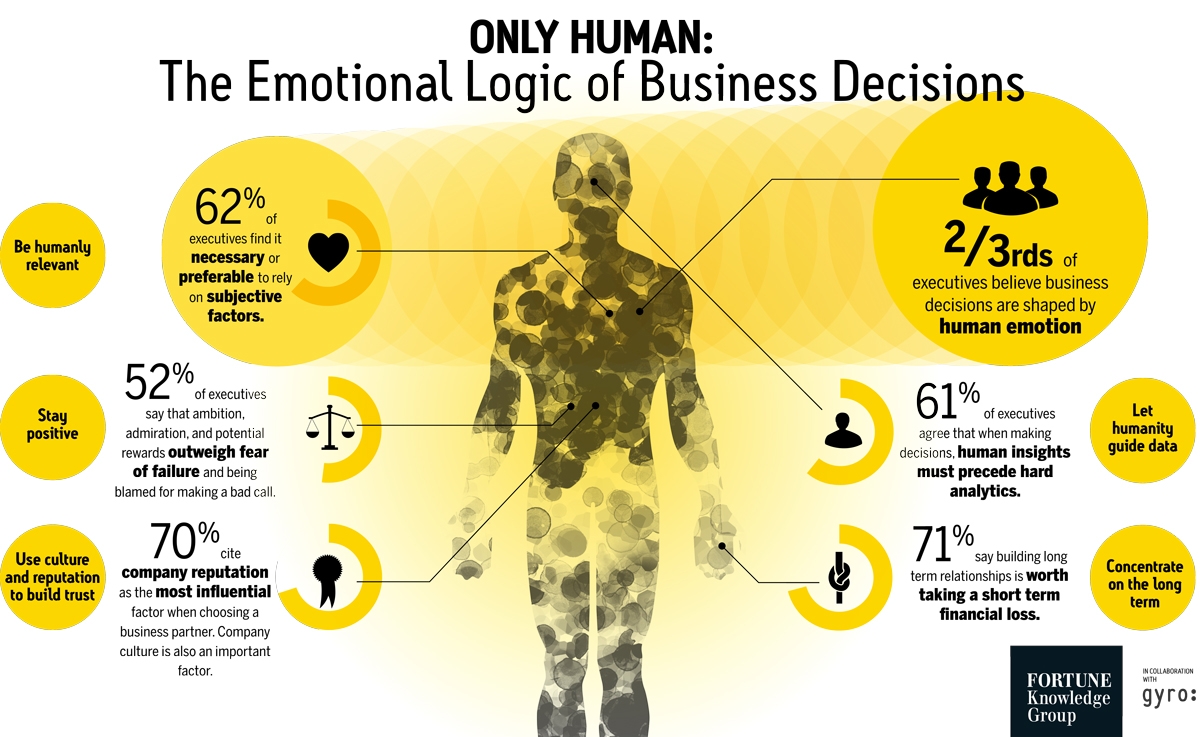 Edited by Richard Carufel